Investing in the communities where we   
    work, play and serve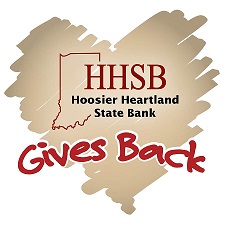 At HHSB, we're all about community. This is where we raise our family, meet our friends, make new connections and strive to improve life for all of us. We're as serious about giving back as we are about helping you with all of your financial needs. We're more than just a bank. We're a group of people dedicated to doing good work and assisting organizations that share our beliefs.
We're proud to have given back more than $1 million in direct charitable contributions to our local communities over the past 10 years.
Here's what we've been up to lately.
On February 13, 2021, we held our 6th annual Shared Values Awards in a first-ever virtual ceremony. The Shared Values Award Ceremony is HHSB's biggest event of the year, during which we donate a combined total of $34,000 to local non-profit organizations that share our values. The Shared Values Awards also recognizes HHSB employee-owners for their commitment to our mission, vision, and values.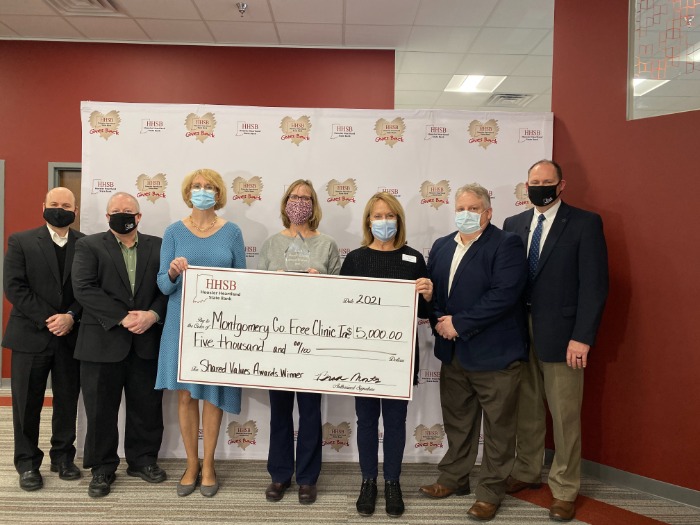 Montgomery County Free Clinic – Winner $5,000 donation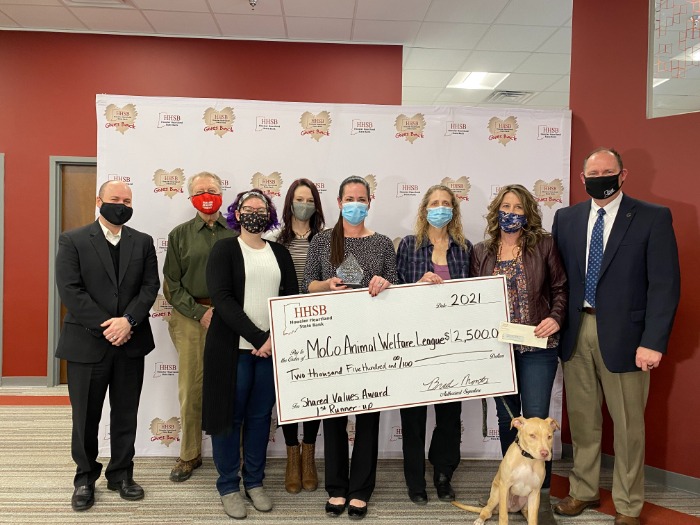 Animal Welfare League – 1st Runner Up $2,500 donation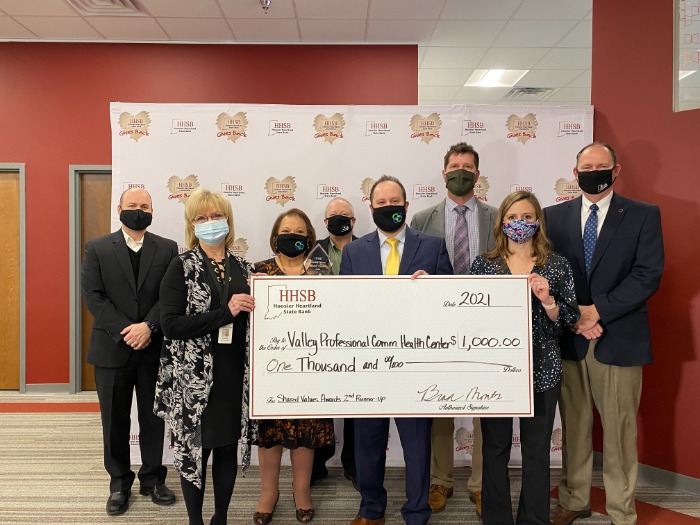 Valley Professionals Community Health Center – 2nd Runner Up $1,000 donation
As a Community Bank, we understand the importance of supporting organizations that help those in need. We fulfill our mission in this area through the following programs:
The Hoosier Heartland State Bank Scholarship Program
We believe in the value of higher education as a life-changing experience. Every year, HHSB awards a four-year, renewable scholarship in the amount of $1,000 per year ($4,000 total award) at each of the High Schools in our area – Crawfordsville, North Montgomery, South Montgomery and North Putnam. The scholarship recognizes a student attending an accredited college or university who is majoring in business, finance or marketing. Academic achievement is considered along with community, school and volunteer activities. Other eligibility requirements apply. More information concerning the scholarship program can be obtained by contacting:
The Montgomery County Community Foundation if attending a Montgomery County High School, or
Your guidance counselor if attending North Putnam High School, or
You may also contact Brad Monts (765-942-2000) or Trey Etcheson (765-361-3338) at Hoosier Heartland State Bank for more information.


Community Donations
The employee-owners of HHSB are empowered to direct monetary donations to the "Heart-String" charity of their choice. Other donations are considered through written request. A partial listing of organizations that HHSB has supported through our "Giving Back" mission are:


Community Service Projects

Each quarter, the Directors and employee-owners of HHSB donate their time and talents to various projects that benefit those less fortunate than ourselves. Service projects involving HHSB have included:
Preparing food packets for Kid's Against Hunger
Food preparation and serving at the Friendship Kitchen
Fundraising and volunteering for Making Strides – Breast Cancer Awareness
Habitat for Humanity
Nursing home visits
Food drives for FISH


To request a donation or sponsorship
We fund donations and sponsorships to like-minded organizations on a first-come, first-served basis. Please keep in mind, preference is given to the following areas:
Charitable organizations in which HHSB employees serve in some capacity
Organizations that have or are developing a banking relationship with HHSB
Charitable organizations that share HHSB's values while working to fulfill the needs of the underserved within our local communities*
*The community, for giving back, is defined as the market area where HHSB's branches are located
Hoosier Heartland State Bank is a full-service bank with locations throughout West Central Indiana.