Investing in the communities where we   
    work, play and serve
At HHSB, we're all about community. This is where we raise our family, meet our friends, make new connections and strive to improve life for all of us. We're as serious about giving back as we are about helping you with all of your financial needs. We're more than just a bank. We're a group of people dedicated to doing good work and assisting organizations that share our beliefs.
We're proud to have given back more than $1 million in direct charitable contributions to our local communities over the past 10 years.
Here's what we've been up to lately.
On March 19, 2022, we held our 7th annual Shared Values Awards at Stone Creek Lodge. The Shared Values Award Ceremony is HHSB's biggest event of the year, during which we donate a combined total of $34,000 to local non-profit organizations that share our values. The Shared Values Awards also recognizes HHSB employee-owners for their commitment to our mission, vision, and values.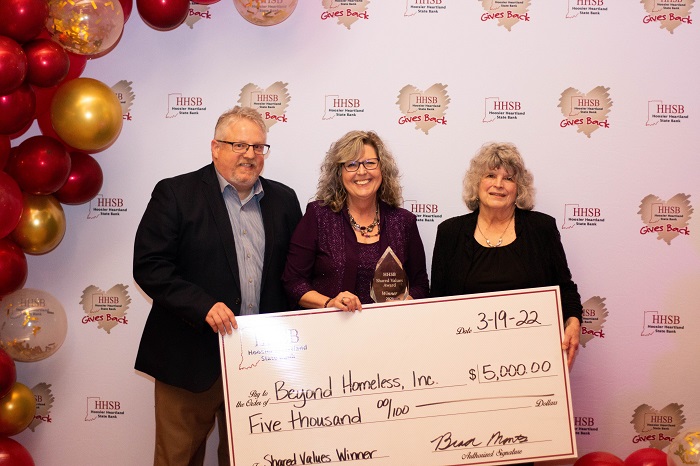 Beyond Homeless, Inc.
2021 Shared Values Award winner - $5,000 donation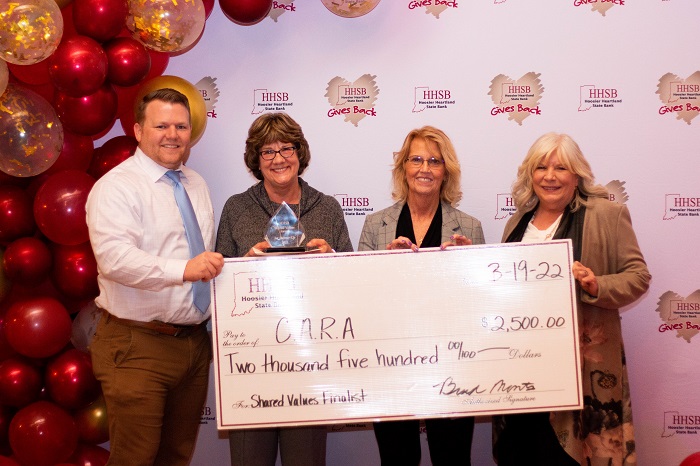 Crawfordsville Adult Resource Academy (CARA)
2021 Shared Values Award 1st Runner-up – $2,500 donation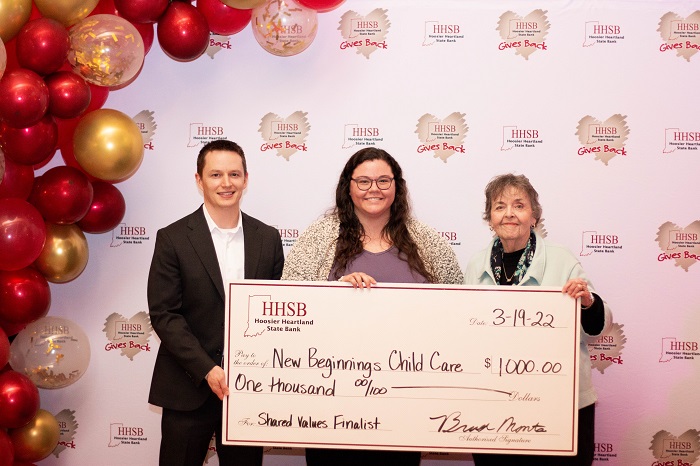 New Beginnings Child Care
2021 Shared Values Award 2nd Runner-up – $1,000 donation
Recipients of the 2021 Mission, Vision, and Values Awards were:
Mission Award 1st Place: Jill Pettit ($5,000 to Community Paramedicine Program)
Mission Award 2nd Place: Jeff Kiger ($2,500 to Mary Allison Children's Trust)
Mission Award 3rd Place: Ray Claycomb ($1,000 to He-Men)
Vision Award 1st Place: Marj Froedge ($5,000 to Achaius Ranch)
Vision Award 2nd Place: Hannah Olin ($2,500 to Women's Resource Center)
Vision Award 3rd Place: Nate Cravens ($1,000 to Montgomery County Youth Service Bureau)
Values Award 1st Place: Cody Hargis ($5,000 to Montgomery County Education Foundation)
Values Award 2nd Place: Heather Hites ($2,500 to Christ 180 Church G1 Local Outreach)
Values Award 3rd Place: Elizabeth Stokes ($1,000 to Montgomery County United Marching Band & Guard)

As a Community Bank, we understand the importance of supporting organizations that help those in need. We fulfill our mission in this area through the following programs:
The Hoosier Heartland State Bank Scholarship Program
We believe in the value of higher education as a life-changing experience. Every year, HHSB awards a four-year, renewable scholarship in the amount of $1,000 per year ($4,000 total award) at each of the High Schools in our area – Crawfordsville, North Montgomery, South Montgomery and North Putnam. The scholarship recognizes a student attending an accredited college or university who is majoring in business, finance or marketing. Academic achievement is considered along with community, school and volunteer activities. Other eligibility requirements apply. More information concerning the scholarship program can be obtained by contacting:
The Montgomery County Community Foundation if attending a Montgomery County High School, or
Your guidance counselor if attending North Putnam High School, or
You may also contact Brad Monts (765-942-2000) or Trey Etcheson (765-361-3338) at Hoosier Heartland State Bank for more information.
The employee-owners of HHSB are empowered to direct monetary donations to the "Heart-String" charity of their choice. Other donations are considered through written request. A partial listing of organizations that HHSB has supported through our "Giving Back" mission are:
4 Anchors Women's Ministries
100+ Men Who Care of Putnam County
Ability Services Inc.
Achaius Ranch
AGR Delta Alumni, Inc.
Athens Arts
Athens Saddle Club
Ambassador Book Club
Amber Powers Sparks Memorial Scholarship
American Cancer Society
American Heart Association
American Legion Post 72 - Vietnam Wall Traveling Memorial
American Legion Post #302
AMVET News
Angel Tree
Animal Welfare League
Area 30 Career Center
Bainbridge Saddle Club
Baldwin Memorial - FOP #90
Battle for the Banner
Ben Hur Car Club
Benchmark Family Services
Beyond Homeless
Blue Star Hoosier Mothers
Boys & Girls Club of Montgomery County
Building Essential Skills Together (BEST)
Candles Holocaust Museum and Education Center
Care Net Pregnancy Center
CCC Children's Charities
Celebrate Recovery - Rock Point Church
Character Counts of Montgomery County
Christ 180 Church
Christ 180 Church G1 Local Outreach
Church Men United of Montgomery County
City of Crawfordsville
City of Crawfordsville Street Department
Clock Tower Restoration Project

Coats for Kids
Community Paramedicine Program
Cougar Youth Softball League
Crawfordsville Adult Resource Academy (CARA)
Crawfordsville American Legion
Crawfordsville American Legion Auxiliary
Crawfordsville Baseball Boosters
Crawfordsville Community Paramedics Operation Swaddle Program
Crawfordsville Country Club
Crawfordsville Football Boosters
Crawfordsville High School
Crawfordsville High School - NAHS
Crawfordsville High School - Post Prom Committee
Crawfordsville High School - The Positivity Project
Crawfordsville Kiwanis
Crawfordsville Main Street
Crawfordsville Masonic Temple Foundation
Crawfordsville - Montgomery County Chamber of Commerce
Crawfordsville Parks & Recreation
Crawfordsville Police Department - K9 Unit
Crawfordsville Professional Firefighters Local 4143
Crawfordsville Regional Airport
Crawfordsville Rotary Club
Crawfordsville Strawberry Festival
Crawfordsville Youth Baseball
Ducks Unlimited
Dusk to Dawn Bereavement Services
DYW of Montgomery County
Elks Lodge #483
Faith Alliance
Family Crisis Shelter
First Christian Church Hand-In-Hand Preschool
FISH Food Pantry
Friends of Montgomery County Fair
Friends of Sugarcreek
Friendship Kitchen
Fuzzy Bear Ministry
Grace & Mercy Food Pantry
He-Men
Haven of Hope Ministries Cowboy Camp
Hanging Rock Christian Assembly
Historic Ladoga Inc.
Home for Friendless Animals
Honor Flight of Greater Lafayette
Hose School
Humane Society of Putnam County
Humans United for Equality
INFBPW/Crawfordsville
Ivy Tech Community College
Ivy Tech Foundation Inc.
Jasper County Extension Office
Journey of Hope
Kid's Against Hunger
Kairos Ministries
Ladies Auxiliary Byron Cox Post #72
Ladoga Ball League
Ladoga Christian Church - Runts Program
Ladoga Community Fund
Ladoga Elementary School
Ladoga Fire Department
Ladoga Library Lunch Bunch
Ladoga Lions Club
Ladoga Public Library
Lafayette Gold Star Mothers - Honor Flights
Linden Easter Egg Hunt
Leland Cornett Memorial Park
Lew Wallace Study & Museum
Lew Wallace Study Preservation Society
Linden Carnegie Library
Madison Township Volunteer Fire Department
Making Strides - American Cancer Society
March of Dimes
Marie Canine Cancer Center
Mary Allison Children's Trust
Montgomery County 4H
Montgomery County Civitan Club
Montgomery County Community Christmas Dinner
Montgomery County Community Foundation
Montgomery County Community Foundation - HHSB Scholarship
Montgomery County Council on Aging
Montgomery County Cultural Foundation
Montgomery County D.A.R.E. Program
Montgomery County Disc Golf Club
Montgomery County Education Foundation
Montgomery County Free Clinic
Montgomery County Historical Society
Montgomery County Leadership Academy
Montgomery County League of Women Voters
Montgomery County Mental Health
Montgomery County Red Cross
Montgomery County Special Olympics
Montgomery County United Band Boosters
Montgomery County United Methodist Church
Montgomery United Police Canine Association, Inc.
Mountie Mission
MUFFY
National Fire Safety Council
New Beginnings Day Care
New Market Elementary PTO
New Market Fire Department
New Market United Methodist Church
New Ross Christian Church Food Pantry
New Ross Christian Church Youth Group
New Ross Conservation Club
North Montgomery FFA
North Montgomery High School - Girls Soccer
North Montgomery High School - Parent Advisory Council
North Montgomery High School Football - Parents' Club
North Montgomery Schools
North Putnam Schools
North Putnam High School Alumni Association Student Support Endowment
North Putnam High School - Post Prom
North Putnam Youth Baseball League
Nunan Junior Golf Foundation
Northridge Middle School
Nucor Charity Group
Pam's Promise
Peyton Manning Children's Hospital
Philanthropic Education Organization - Chapter EC
Pray for Addi
Purdue Club of Putnam County
Purdue Extension - Back-To-School Event
Purdue Extension Montgomery County
Purdue Scholarship Fund
Putnam County Community Foundation
Putnam County Fair & 4-H Association Inc.
Relay for Life
Riley Hospital for Children
Ripley Fire Department
Roachdale Alumni Association
Roachdale Christian Church
Roachdale Friends of the Library
Roachdale Revitalization Cooperative Alliance
Roachdale VFW
Roachdale Volunteer Fire Department
Rock Point Church
Rock Point Church Rock Paper Scissors
Rotary Club Library Project
Rosie's Cupboard
Roxanne Harris Memorial Scholarship Fund
Safe Haven Baby Boxes
Salvation Army
Samaritan's Purse
Shane Marches On
Sheriff of Montgomery County
Southmont Athletic Department
Southmont Chapter of Dollars for Scholars
Southmont FFA
Southmont Post-Prom
Southmont Royal Mountie Band
Southmont Youth Football
South Montgomery Schools
St. Bernard's Catholic Church
Sugar Creek Elementary PTO
Sugar Creek Players
Sustainable Initiatives
Team Mason
The Ambassador Company
The Giving Tree - Jamestown Christian Church
The Kid's Closet
Through The Gate
Town of New Richmond
Town of Roachdale
Transformers of Putnam County Circles
Trinity Life Ministry
Valley Professionals Community Health Center
Walnut Township Community Fund
Walnut Township Fire Department
Walnut Township Youth Baseball
Wayne Township Community Improvement
Waynetown Community Fire Department
Waynetown Police Department Blue Gives-Back
Women's Resource Center
Wounded Warrior Project
Vanity Theatre
Volunteers of New Richmond
Youth Service Bureau
Community Service Projects

Each quarter, the Directors and employee-owners of HHSB donate their time and talents to various projects that benefit those less fortunate than ourselves. Service projects involving HHSB have included:
Preparing food packets for Kid's Against Hunger

Nursing home visits
Food Drives and Mobile Food Pantries


To request a donation or sponsorship
We fund donations and sponsorships to like-minded organizations on a first-come, first-served basis. Please keep in mind, preference is given to the following areas:
Charitable organizations in which HHSB employees serve in some capacity
Organizations that have or are developing a banking relationship with HHSB
Charitable organizations that share HHSB's values while working to fulfill the needs of the underserved within our local communities*
*The community, for giving back, is defined as the market area where HHSB's branches are located
Hoosier Heartland State Bank is a full-service bank with locations throughout West Central Indiana.